Yesterday I had the unexpected chance to hear a talk – in my own home-town, and free of charge – by Robert Hammond, Executive Director of the Friends of the High Line, and one of the two men responsible for instigating the project (you can read my earlier post about it here)
He's out here for a Thriving Neighbourhoods conference, and a group called Melbourne Conversations had managed to grab him for this free event at Melbourne Town Hall.
In addition to just wanting to hear the story of the High Line, I went along armed with two questions ie how controversial (if at all) was the appointment of Piet Oudolf, a non-American, for the planting of the High Line?; and what proportion of the phenomenal success of the High Line can be attributed to the sensationally sophisticated and highly engaging planting?
The talk was fabulous. Robert Hammond is highly irreverent and energetic, and refused to conform to the dry, formal atmosphere into which he was introduced. Given that the terms 'presenting a paper' and 'plenary session' have me frantically scrabbling for the escape hatch, he had me on board from minute one.
I won't go into the content of the talk – if you're interested you can see it on YouTube in a week or so (I'll add a link below when it appears) – but it turns out that my first question was answered incidentally (and a little disconcertingly) during the talk. Piet Oudolf was never appointed, as such. He was just part of the team that won the design competition, and he wasn't even the leader of the team. This was a little freaky – realizing how close we came to their being no PO-planted High Line!
I managed to ask my second question through a microphone at the end of the talk, the downside of which was that I was so nervous that I kind of forgot to listen properly to the answer. Weird, that. I did radio for years without a twinge of nerves, but if I ever ring up talk-back radio myself, I get so worked up waiting in the queue that I can barely speak once it's my turn.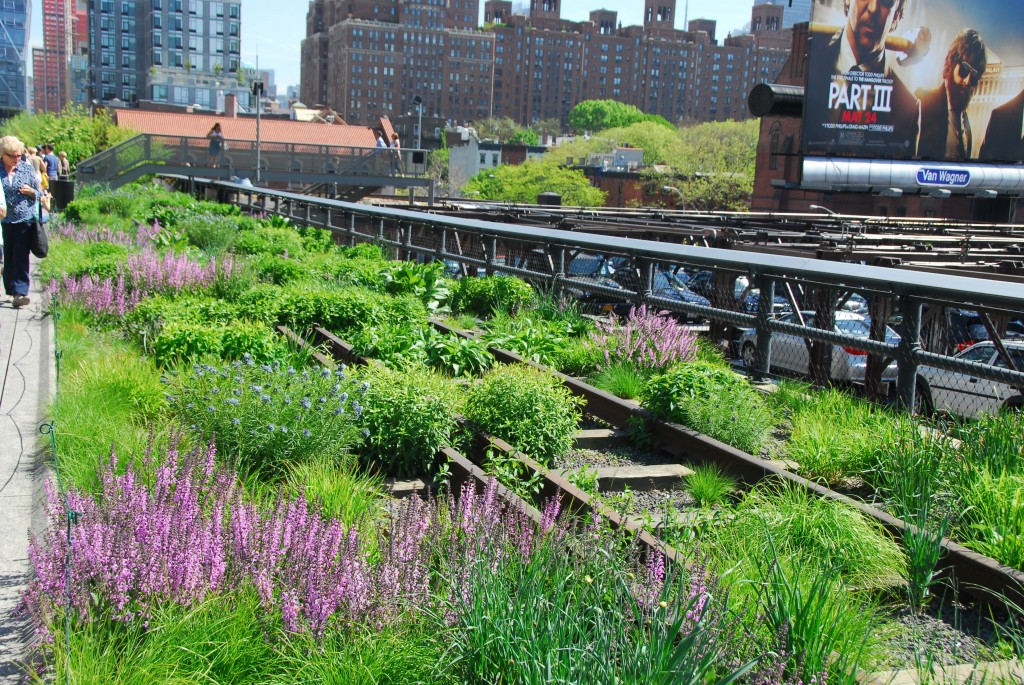 RH replied that the planting certainly changes people's behaviour. He stated that NY isn't a very romantic town. People don't hold hands, and they walk fast. His observation is that on the High Line they slow down, and you see them holding hands, and part of that he attributes to the quality of the planting. At least I think that's what he said.
It was quite a good answer, but different to what I expected. My fear is that if anything similar was attempted here, we'd probably end up with acres of mondo grass punctured by ornamental pears, or Poa lab punctured by spotted gum. If Robert Hammond's brief explanation of the process is anything to go by, then it would seem that even on the High Line, which is to my mind the best bit of garden design – and the best bit of gardening – I've seen in the last couple of years, the quality of the planting wasn't particularly high on the priority list. The planting really only emerged as a part of the winning submission. Looked at from this angle, it would appear that this astonishing planting – in my opinion the best work of the best man working with perennials – comes frighteningly close to being a stroke of very, very good luck.
Why not come on a Travelling Masterclass with me to the world's best gardens? Check out our up-coming tours and itineraries here.