I'm sitting up in bed, re-dawn, french doors open to the following view. Its morning number four and I'm yet to get bored with it.
That's Vesuvius in the background, the currently snoring presence that took out Pompeii two thousand years ago. Actually, I'll take a pic from the bed so you see what it's like right now. It'll be horribly grainy 'cos it's pretty dark out there.
With only two more nights here, it's unlikely that I'll tire of it, but I've no doubt that I eventually would. I might not be consciously bored, but I'd stop looking at it – stop noticing and appreciating it.
William Waldorf Astor had the identical view when he lived next door at Villa Tritone (the cream, cliff-top joint in the pic below).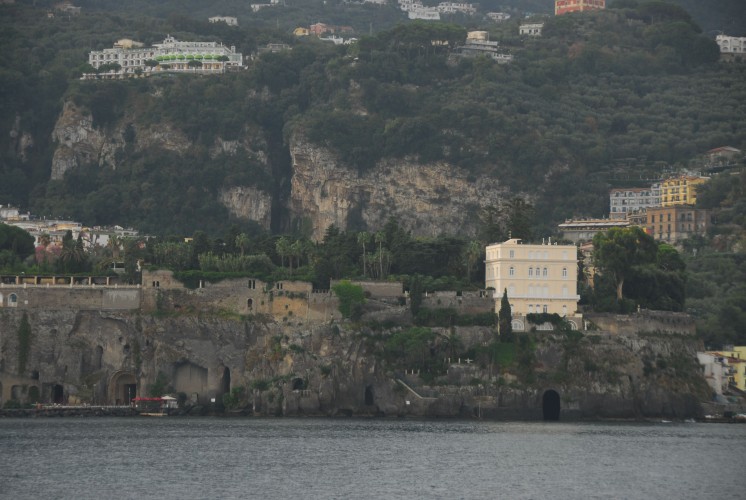 He'd contracted Harold Peto to design the garden for him, and old HP knew how to keep things interesting. He blocked the view out. Well not entirely out, but very nearly.
He created a fabulously romantic inward-looking garden that provided only occasional glimpses of the bigness beyond. The result is incredibly enticing. It teases you at every point.
The construction of the walls required is outrageous. Even when working with big budgets most clients want to see their money spent prudently. These walls just have been a difficult idea to 'sell', but clearly HP managed to convince WWA of their value. (Later addendum: it occurred to me after writing this that the walls in question probably pre-date the construction of the Villa, and that Harold Peto may not have specified their construction. He may, instead, have specified their retention. Either way, the point remains).
These stupendously walls were then punctured, only here and there, with Venetian-looking windows, along with shutters. You can't see them in the wall above as they're in a section of the wall blocked from view by the greenery, around the corner. This is how they look from inside the garden (though bear in mind that the pic below doesn't quite do relative justice to the big-view pics above, as the day I actually managed to get into this nearly-impossible-to-access garden (almost exactly a year ago) wasn't very clear, and you can only just make out the slope of Vesuvius on the hazy horizon)
Below is what the walls and windows look like from my hotel balcony. You can see the windows just below all the greenery on the walls above the craggy point
And this is how it looks from the beach below, when I went down for a swim yesterday. Again you'd barely notice the windows if it wasn't for the sun shining through one of them.
Harold Peto understood what so few home owners do – that all views eventually become wallpaper (to quote Christopher Alexander, from 'A Pattern Language'). His work at Villa Tritone may be an extreme response, but it illustrates beautifully that restricting, controlling and framing views are some of the best ways to keep them alive and engaging.