I can't decide if it's just a matter of association, but I love the look of bulbs. I'm not talking about the flowers (though I love those too), I'm talking about the bulbs themselves. I love the feel of them. The weight of them. The texture of them.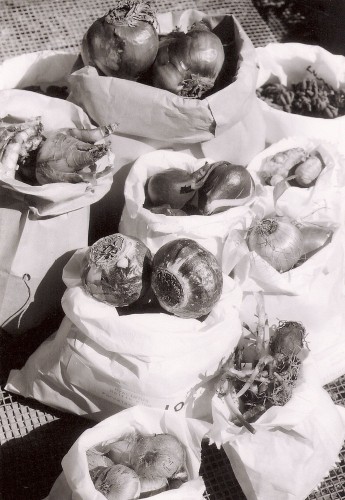 I think I can go so far as to say that I get as much pleasure from the bulbs as I do the flowers they produce. But I don't think I'd get the former if it wasn't for the latter. It's at least partially the sense of what's locked up inside the bulb that loads them with such joy.
A few years ago I planted one hundred decent sized bulbs of Tulipa 'Maureen'. Their flowering was followed by a wet spring, and planted as they were in a position of perfect drainage, during their die-back phase they bulked up like crazy. When I dug them, they'd swollen to the size of small cricket-balls. They were smooth and shiny, bore the weight of serious life-force, and nestled in your hand as if they belonged there.
Pleasure almost inevitably leads to a degree of greed. At most, I'll order a few hundred tulips. I can't ever remember ordering more than, say, five hundred, and most of those were for clients. The box they arrive in is always disappointingly small.
I once put in a reasonable order of bulbs for a client, and she asked if she'd need a trailer to pick them up from me. I'd have smiled if it wasn't for the fact that I all-to-well knew the bathos she was facing when they arrived in a box about the size of a carry-on suitcase.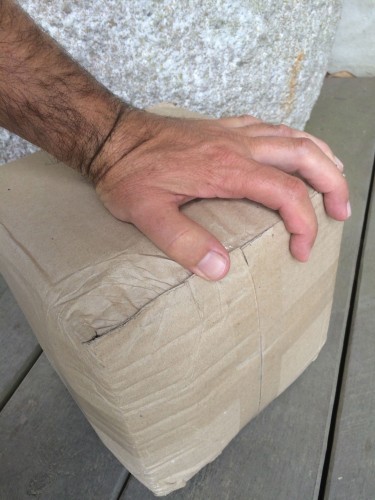 The box pictured here arrived the other day, and contains two thousand bulbs. Admittedly they're only small, being anemones and Brodiaea, but you really want two thousand bulbs to look like two thousand bulbs, don't you?
I want to run my hands through them like some botanical-Scrooge.