I was hunting for a pretext on which to show off some rare photos of Great Dixter (one of my favourite places in the world, and about which I tend to rant a little too often and at too great a length).
It didn't take long.
But you'll have to read to the end to get it. I promise it will be worth it. There's images there that you won't see anywhere else.
There's this place up on the roof at Great Dixter which is hidden from any outside view, and where there's loads of skylights. It's all lined with great sheets of thick oxidised lead, so as you climb out on hands and knees from the access window at the top of a ladder, you can't help but feel like you're absorbing fatal levels of poison.
But the views are worth it.  You can see out on three sides – to the north, south and east. Above is the lavender garden, or the parliament of birds. Below left is the Topiary Lawn, and right is the High Garden.
If you click on these images, you'll see them full size. This part of the house isn't open to the public, but there's plenty of pics taken from here, some in Christopher Lloyd's (the owner's) books. What I really wanted to put out there were some pics taken from the huge chimney, right in the middle of the house, while the roof was under repair in 1991. Christopher Lloyd himself had never seen these views, despite living at Dixter all of his (then) 70 years.
Above is the old rose garden – back when it was a rose garden.
Above is the Barn Garden and Sunk Garden. In the foreground is a pretty dodgy blend of pink and red tulips. I was there when CL was explaining to his niece that the combination wasn't really what he wanted, but they were the only tulips left after planting up the rest of the garden. "But the colour combination is dire, don't you think?" was the consequent question. His highly characteristic answer? "As I said, they weren't my first choice, but now you've described them that way, I'm beginning to see their virtues".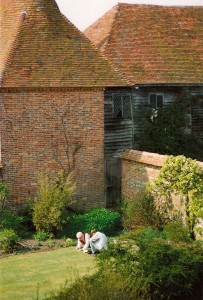 And then there's this, of CL and me planting in the Wall Garden. He was reclining on the lawn, writing notes on what we were planting. In this particular case, it was a daylily sent from Wisley – one that he'd commented favourably on on an earlier visit. The hilarious thing is that there was simply no chance of it surviving in that spot, right at the foot of an enormous Clematis heracleifolia that had been there forever, and is still there now. We both knew (though never mentioned) that the daylily was doomed. But a garden like that rarely has any open space for such odd arrivals, and anyway, it's nicely reassuring that even a gardener of his astonishing abilities can be unrealistically optimistic, like the rest of us.
So what was the pretext? What can we possibly take away from this? I've just been up on the roof this afternoon, clearing guttering. It's incredible how different the garden, and even our huge oak, looks from up there. To see a garden from an unusual angle literally changes your perspective, and often reveals opportunities you couldn't see on the ground, or solutions to design problems you've been struggling with for ages. You don't have to climb on the roof to get the effect. Lying flat on your back on a lawn and looking straight up can have be similarly revealing, or holding up a mirror, and seeing your garden in reverse. It always looks more mysterious and interesting as a mirror image, simply because we're not desensitised to the view.
Sometimes it's just a matter of seeing a garden right out of season. I was in a client's garden this week just after massive sweeps of Miscanthus sinensis 'Giganteus', usually standing at at least 4m tall, had had their winter cut to the ground. I'd never before had such a clear view of the garden on this side of the house. It's bare, I know, but hugely revealing to the designer.
More on this garden later..