Christopher Lloyd, speaking to the Canberra Press Club in 1992 about the landscaping around the recently opened Parliament House stated that "the Landscape Architect clearly knew four plants," then assumed a tone of mock admiration to add "and managed to use all four in his design."
I reckon I could count on one hand the locations where you see good Landscape Architect-designed hard landscaping and good planting together. One of those locations is the Cranbourne outpost of Melbourne Botanic Gardens, and another being the Elephant enclosure at Melbourne Zoo.
But the prize goes, in my opinion, to the highlight of my recent trip checking out gardens for a new tour – the High Line in New York (being pummelled by Hurricane Sandy, as I write).
I was there a couple of weeks ago, and I expected it to be very good. The planting is by Piet Oudolf, after all. But I don't think I was ready for it to be this good.
This phenomenal linear park is built on a disused elevated railway line, winding amongst apartment and office buildings. Read more about its fascinating history here if you want, as I don't intend spending any time on that. I just want to get into its extraordinary combination of planting and constructed detail.
I mean, check out this fabulous seating, in which the long slabs of concrete rise out of the paving and morph into timber benches. The birches that create a rare canopy overhead (it's mostly just open to the sky) match perfectly with the ageing flowers of a nearby Hydrangea paniculata form. (If you could zoom in on the pic above (sometimes when you click on it, it allows you to, but not always – haven't worked that out yet), you'd see the Statue of Liberty framed by that footbridge in the background)
Also, check out the detail as the concrete strips just fade into the planting, with a wave at the end to simply imply an edge underfoot, to discourage walking over the plants that squeeze in between (1.).
Here and there it wasn't doing it's job as well as it might have, and they've had to rope off the edges of the beds to prevent trampling, but it's a fabulous, if not-quite-perfected idea.
My buddy Tony and I entered at the northern end, from West 30th Street, and it looked at first like the planting was going to be pretty much planar, creating a waist high plateau in typical, highly textural, Piet Oudolf style. But it soon rose up to engulf us, and along it's mile-long length ranges from an almost solid tunnel of woody plants to an ankle-deep carpet of perennials. Sometimes you were simply on it, and at others you were right in it (2.).
BTW, check out the railway lines that lie right where they were when it was a functioning line. They're mostly hidden deep in the planting, but sometimes emerge into the paving (3.). In other places they're conspicuous in typical railway gravel, with only thin or deliberately sparse planting.
Just when you've walked quite far enough, and it's time to change your memory card (for the second time), you emerge from under one of several buildings which fly over the High Line to find this communal chaise longue (below). It's right next to a fabulously low-key water feature in which water just simmers up onto the paving, then runs back down a few slabs away, leaving a thin film of water that tinkles away prettily, and that'd probably splash if you stamped on it hard enough. You can see it on the left of the pic.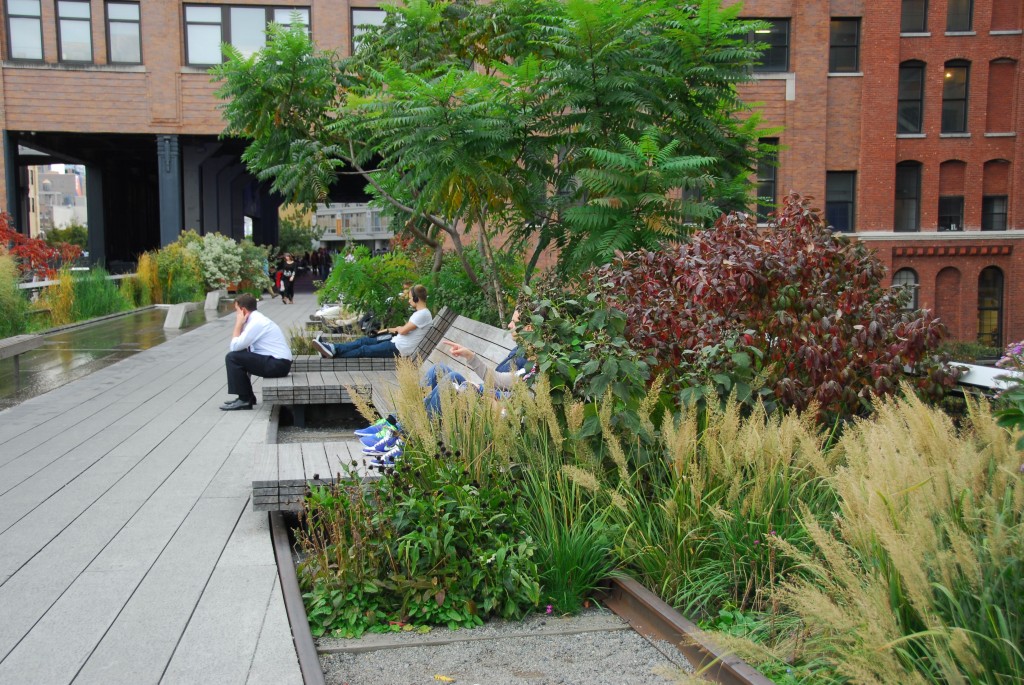 It was all very autumnal, which, along with late summer, is when Piet Oudolf's plantings are at their best. There were berries everywhere on deciduous hollies, blueberries and the most beautifully placed and well-managed Rosa glauca I've seen (right).
I can't wait to see how it looks when we're back there in spring. At a glance, it looks like it'll be well carried by the woody stuff, like the magnolias, dogwoods and roses, that I didn't really expect to see in a Piet Oudolf planting. I'm hoping that there might be a few bulbs as well. A few autumn-blooming Crocus speciosus in there this time was a promising sign.