I'm not really one for regrets. I certainly don't wallow in them. But if I can learn from an honest reflection on what could have been done better, I'll go at least that far. So in the interest of doing better next year, here's a few of my last-day-of-summer garden regrets from this growing season.
That I didn't plant more shrubs and trees in spring. Since I only have tank water, I often don't have sufficient supplies for recently planted trees and shrubs when it dries out over summer. These last three La Niña years have constituted the lowest-demand summers, and would have been the perfect opportunity for getting key boundary plantings in place. It was clear, quite early on, that my tank water levels were going to healthy, but I didn't act on it. That leads to regret number two.
That I didn't instal a huge water tank back in spring. I seriously fantasise about having a whopping 150,000l tank so as to have enough to do at least some watering over summer, but have not yet managed it. Through late winter and early spring our tanks were constantly overflowing, and all that water was just wasted. Who knows how long it will be before we have another really good tank-filling weather-system?
That I didn't plant more summer veg, or follow up my bean planting. The lack of water confidence means that I go at my summer veggie planting very gingerly, forever prepared to just abandon them if water storage levels are threatened. As it happens, this very cool summer has meant that tomatoes and Lebanese eggplants would have probably failed anyway, or so I console myself. But I should have followed up my slater-ravaged crop of beans. I thought it was probably too late in the season to do so, but those that survived are bearing heavily now, and the follow-ups would have only been a few weeks behind.
That I didn't plant my big summer pots earlier. I'm crazy about big mixed pots in summer. I can never get the contents I'd really like, and end up scratching around nurseries and Bunnings for things that might add interesting foliage, or tumble down the sides of the pots. I should have planted them up as soon as the danger of frosts was past (normally about mid November), but didn't get around to it until early January. They're only really getting going now, so I've got to pack a whole lot of loving into the next six or so weeks, when we're likely to get our first frost.
That I didn't have seeds of ornamental kale ordered and ready at sowing time. I was right on point with my sowing of edible brassicas (mostly broccoli, and a little kale) this year, getting them going in late January. No doubt where you garden, you have a bit more time to think about this, but not here. I only regret that I didn't have any seeds of ornamental kale, which beats all other winter 'annuals' for duration and durability of colour contribution hands down, but must be acquired via mail order. When I last ordered the seed, I could only find one supplier in Australia. By the time I thought about it this year, it was really too late.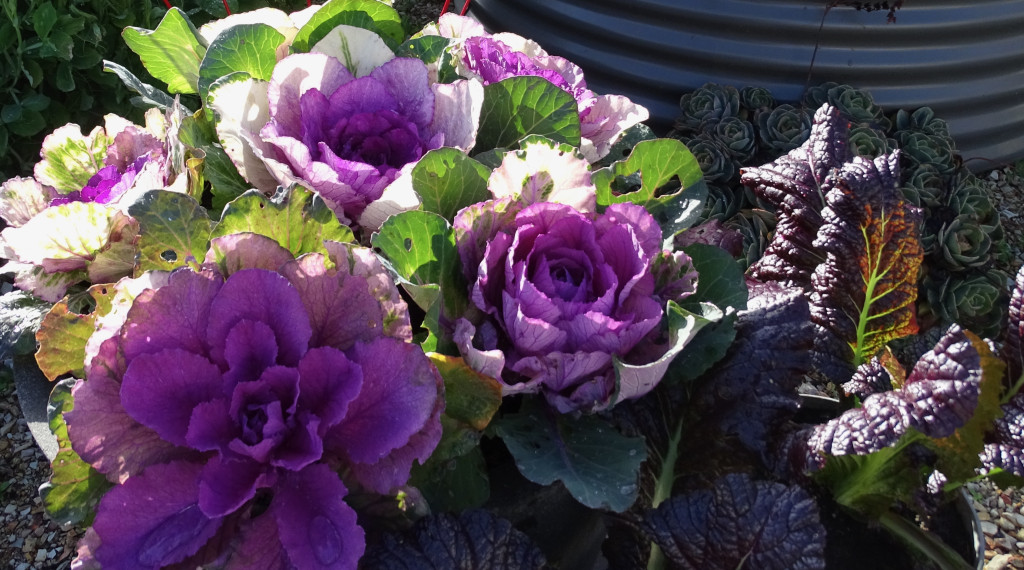 There is always, of course, some things that you're glad you didn't get around to doing, as subsequent circumstances proved that they would have been a waste of time and effort anyway. For instance I'm glad:
That I didn't bother sowing any tall summer annuals for the garden itself. Queen Anne's Lace (Ammi majus) spontaneously self-sows here, but in a long, hot summer it's usually over, leaving big gaps, by some time in January. Every now and again I surprise myself by having something prepared to take its place. This year I didn't, and it turned out that, being both a relatively short and mild summer, the Ammi flowered much later than normal, and is still looking good in seed now (see main pic above). So that's a win.
That I vacillated for so long about how to prune my two specimens of Bupleurum fruticosum (a greatly appreciated gift from Simon Rickard), that I didn't get around to it at all. Everything about their structure led me to think I should prune them hard to keep them bushy, but a trusted reader suggested the opposite – that hard pruning would only induce long, unbranched regrowth, and that I should just tip prune. I didn't do either, and the results were superb.
What regrets do you have from the last summer?