So the joys are shrinking.
At least they're shrinking in physical size, but curiously without any diminution of their joy-level.
I don't know how this works. All I can think of is that somehow, the joy-per-gram or the joy-per-cell quotient increases enormously at this time of year as the size of the plant-source shrinks. We've just entered the first of three of the florally bleakest months of my local climatic calendar. What there is in flower is ridiculously (you might even say comically) small.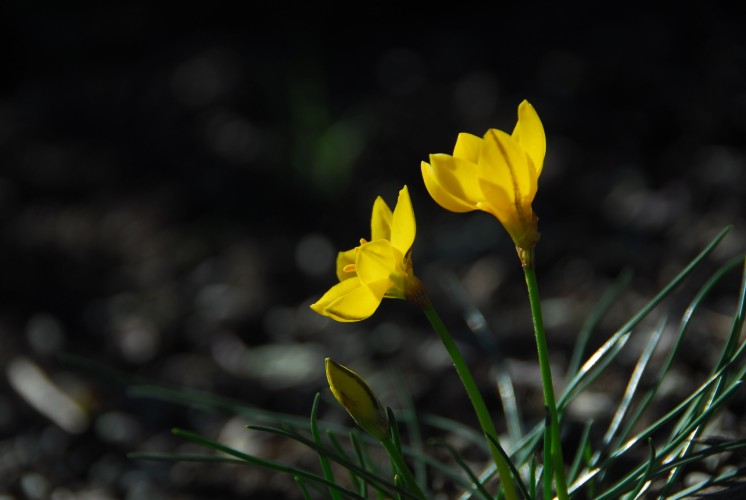 All my psychological evidence would suggest that a tiny bulb with a flower (preferably not less than three flowers, but even one can do it for me) no more than a few centimetres tall can match, and possibly even surpass, the pleasure-power of an enormous rhododendron in flower in October. How can this be?
Is it possible that it's borne in ignobility? Is it just a kind of reverse snobbery – that while I know that everyone is going to exclaim over the retina-slamming rhodie I, from my elevated heights (or in fact, my kneeling humility), recognize quieter, more sophisticated delights? Is that it?
And is this linked to some kind of privacy thing, that isn't necessarily, but could be, snobbery-fueled? Fifty people at a time may be able to revel in the rhododendron, but when it comes to my autumn snowdrops, or my recently acquired Nothoscordum, you'll have to stand back and wait your turn. Right now, in this moment, it's just me and this minute, precious, fleeting flower.
Or is it simply that I have a fundamental base-level of pleasure response, and when that has to be extracted from a tiny cluster of even tinier flowers, then extract it I very effectively do.
I dunno. I don't get it. And I'm glad I don't. There's so much – particularly in gardening – that wouldn't be improved in the understanding.