So you've seen organic mulch – you've almost certainly spread some, if not made some. You'd also have seen gravel mulch. But have you ever stumbled on monolith mulch?
I can't think what else to call it.
These pics were taken in a small section of Le Domaine de Maizerets, just outside Quebec City in Canada.
OK, so it's not quite mulch. It was more a pivotal and bold design decision, and a fabulous one. But to consider it as such makes me rethink the use of stone, and rethink the role of mulch at the same time.
It's kind of like someone has taken the idea of a rocky canyon and stylized it somehow, working on the idea of plants slowly invading after a landslide, or taken the idea of a scree and magnified it.

While the huge slabs of stone were the show-stealer, there were other admirable things going on. There was the plant selection, which was neither unnecessarily limited nor crazily diverse. There was a good mix of woody and herbaceous plants, providing that winning combination of the permanent and ephemeral in a setting of virtually ageless elements. But most importantly there was the near-perfect plant spacing, so that the slabs dominated, but only just. Most of the plants chosen have a known tolerance of being cut back hard (like the Ailanthus, Rhus, Catalpa and Vitex), which would mean they could be hacked back if they looked like taking over, but also means that you can retain that lovely young foliage (the first of the three above have much larger leaves when regularly stooled) in perpetuity. It may also have allowed the use of plants that are otherwise frost tender, as their lower trunks would be protected by the thermal mass provided by the stone, and could reshoot if the upper parts of the plant were damaged. But now I'm just speculating. There was no one around to ask about the thinking behind the plant selection.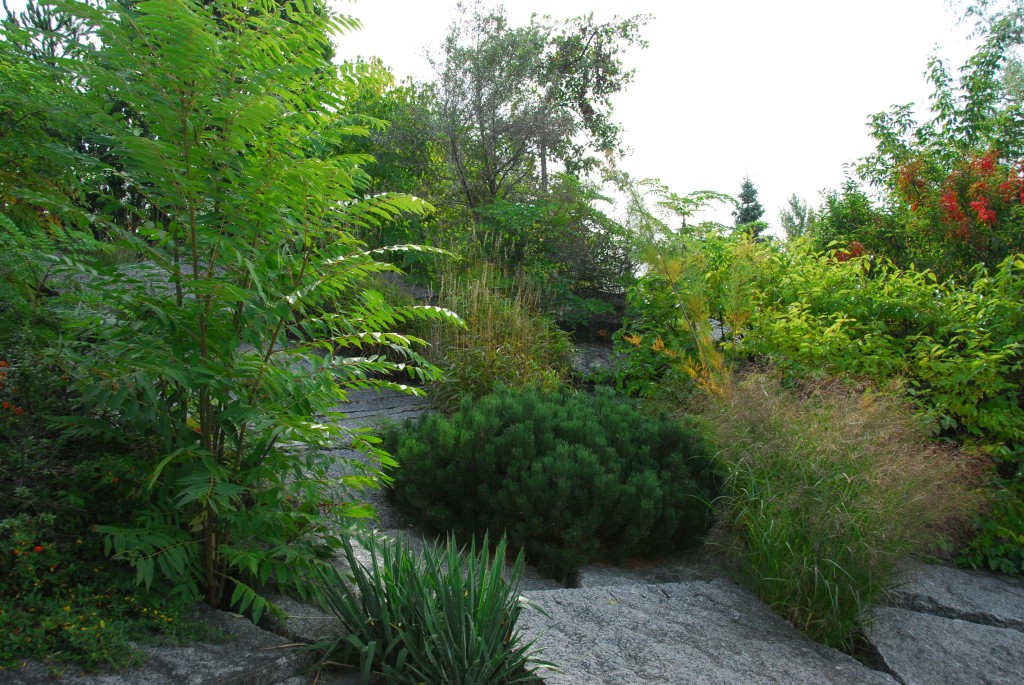 It fills my head with questions. Did they plant after the slabs of stone were placed, and if so, how did they get between them to plant later? Did they plant while the blocks were being placed, and if so, where did they find a machinery operator who would pay any attention to their precious plants during the construction? Given that the crevices between the blocks would be a virtually perfect growing spot (like the botanical wonderland of the cracks and fissures in the rocks of The Burren, County Clare, Ireland – open a link here, here and here, if you're interested in images), possibly protecting plants from extremes of cold, dry etc, then how do they weed out the stuff they don't want in there? Given that this is a public park, wouldn't those cracks all end up filled with chip-packets and other trash?
It's probably a practical nightmare. I'm sure glad I don't have to maintain it. But it was amazing, intriguing and it felt great to be right in the bowl that these huge slabs of 'mulch' created.