How sweet are these words, at the end of a long article by one C. E. Baines.
More succinctly (and with more humour, and humanity) than any other piece of writing that I know, these casual words acknowledge the contribution of the designer as well as the complementary contribution of the loving and engaged garden owner. I love that the owner only has to survey the work for a minute before seeing what's wrong, and that he recognises that he's the best person to fine-tune it to meet his needs.
That's the real point I wanted to make.
But I love it for several other reasons, which, if you don't mind being distracted from the main point, may also be of interest.
I love it because it was sent to me by that most humble superstar of Australian garden writing, the late Jean Galbraith. She would have been in her early nineties at the time, and still contributing occasionally to The Age in Melbourne. She added this scrawled note.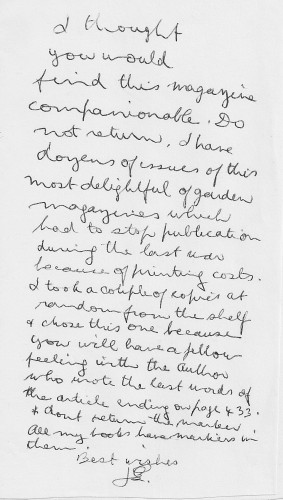 I'm just guessing, but I'd take a bet that one day someone will discover that this was the last known occurrence of the words 'companionable' and 'fellow feeling'. The words she referred to are the ones photographed above, and my fellow feeling with the author has grown tremendously over the twenty-eight or so years since she sent it.
And I love it because it led me to a hunt for further copies of 'this most delightful of garden magazines'.
Currently I have all but 10 of the 216 issues published between 1934 and 1951 (thanks almost entirely due to a single purchase from Gil Teague at Florilegium). As you can see, A.A.Milne contributed to it, as did a great list of known names, including Capt. W.E.Johns (of Biggles fame – the editor of this mag claiming him as his own 'find' in relation to his garden writing), Old Vita S-W, a very young Graham Stuart Thomas and Will Ingwersen. There's gold in every issue.
And I love it because Jean Galbraith sent it to me out of real concern for my disillusionment with professional gardening, back in my apprenticeship days. I love that, even as a very old woman, she understood that she had the power to encourage and bless a very young man. What a star.