I'm not sure whether it's the demands of design work, or the demands of my own (too-big) garden, or sheer curiosity, but I'm forever pondering questions of how much work is involved in the growing of any particular garden plant – how much grooming, or maintenance, or long-term management is required to keep it looking good.
Just as a 'for instance', I have for many years defaulted to using deciduous grasses over evergreen ones in my design work, primarily because they're much easier in both maintenance and management. Think about it for a second.  Deciduous grasses require absolutely no 'grooming'.  All they ask is to get cut back hard at a single time in the year – usually late winter or early spring.  Nothing else.  Their foliage is then entirely renewed every year, and they carry no dead-leaves whatsoever throughout spring, summer and early autumn.  Evergreen grasses, on the other hand, always carry a proportion of dead leaves after about the second growing season, and very few of them are tolerant of begin regularly shorn back.  Flowerheads have to be individually removed, and if the dead leaves become too unsightly, there's nothing for it but to 'comb' through the plant with a gloved hand to remove the worst of them.  
Now I admit to have created something of an exaggeratedly false dichotomy for the purposes of my argument, but you can see where I'm coming from.
A few years back I was designing a garden for a regional hospital, and given the resource-starved reality for such institutions, started to explore a self-created category of plants that are evergreen, but renew themselves from the base on a regular basis, that might be more or less 'self-grooming'. I was thinking of plants like the caulescent hellebores (those with a stem) like H. argutifolius and H. lividus. These flower in winter on stems produced the previous spring, and as they flower and set seed, they invariably begin to recline on the ground, while the new crop of stems emerges above the old, carrying fresh new foliage throughout spring, summer and autumn, then producing flowers for the winter. The old stems, post-flowering, gradually just wither away, and while the plants always look better with the old stems removed, it's not necessary to remove them, and as long as neighbouring plants reduce the visibility of this shaggy petticoat, you'd barely know it was there. The same goes for several of the Euphorbias, including E. rigida and E. myrsinites. You could (potentially), and in certain wild-is conditions, consider these plants pretty much self-grooming.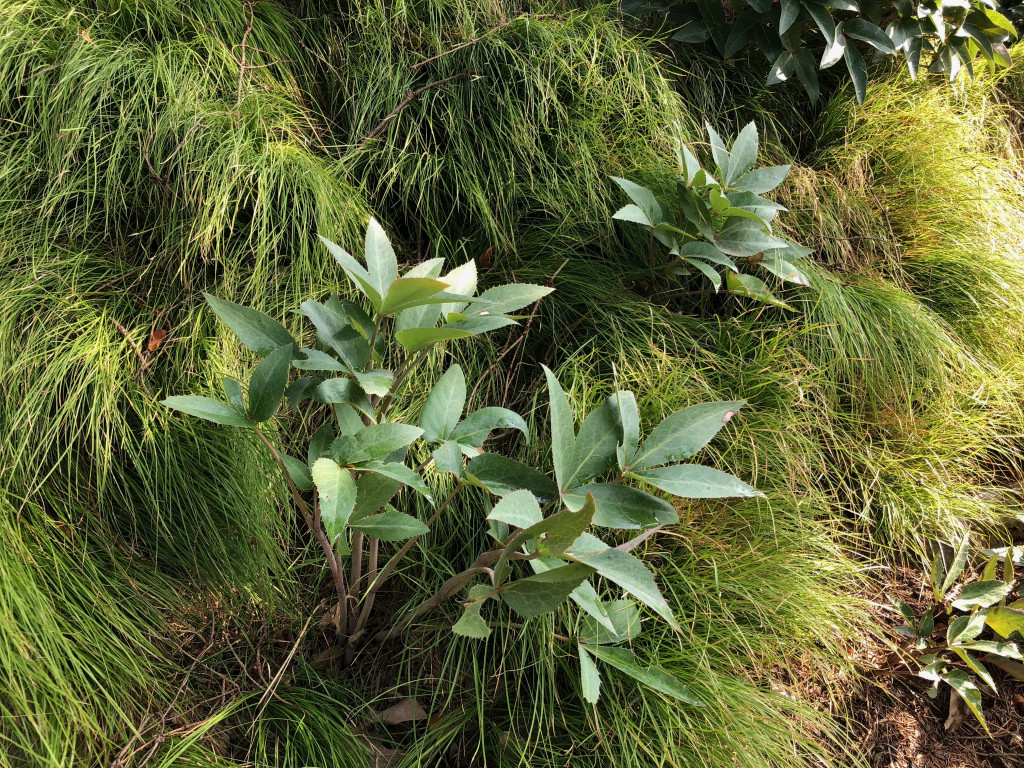 The other great advantage of plants with this cyclical form of growth is that they don't slowly get taller, which is one of the most challenging aspects of long-term garden management – how to keep things in balance while shrubs gradually get bulkier with each passing year. With shrubs, you're forever wondering if you should you sheer them over annually to maintain a certain height, or leave them be, then cut them hard every few years? When you're designing for others, you rarely know what kind of maintenance they're going to get, if any at all.
My forced 'no grooming' or 'low grooming' category of plants also contained the various nandinas.   I've made my deep hatred of Nandina domestica 'Nana' clear on these pages, but I'm not so dismissive of some of the newer ones, nor of the oldest of them all, the straight Nandina domestica, which, depending on placement or usage, can be a very fine plant indeed.  I'm giving the recent release Nandina filamentosa a tentative green light (see the lacy foliage in the main image under the heading above), and I'm nervously enthusiastic about Nandina 'Lemon Lime'.  I was temporarily enthusiastic about N. 'Moonbay', but have since decided that it's excellent height and foliage is just too dense and congested for the inherent laciness of the leaves to read with any clarity.  Nevertheless, it falls perfectly into my category of 'no groom' plants.
What plants do you find give you the most bang for your buck – that give the most while demanding the least in the way of grooming or maintenance?