I'm guessing that you know Melianthus major. As a shrub, there's nothing else even faintly like it. The most prominent and valuable characteristic are its pinnate pewter-green leaves, which incorporate folds and serrations in such a way that dramatic shadows overlay angled, complex gradations of light and shade. Its waxy surface causes water droplets to bead and hover precariously down the midrib and along its serrated edges, with the light-shattering effect of diamond facets. Indeed the whole plant plays with light in ways that other plants have never thought of.
Melianthus is frost tender, so gets cut to the ground every winter for me. Not so in most other parts of the country. I'm quite grateful for the winter purge, as I like it best – by far – as an annually refreshed foliage plant to about 1.5-1.8m. There are other ways of treating it, for other totally different effects. Unpruned, and uncut by frost, great long, arching flowerheads of rich brown-red emerge in summer from the tips of several of its major branches, and last for ages. Unfortunately they come at the cost of the freshness and density of the leaves, which thin and fatigue in the lead up to, and during, flowering. Totally unpruned plants in frost free climates ultimately look a complete wreck. If grown for flowers, therefore, it's best if it is grown behind other shrubs of, say 1.5m, so the bare legs of its 3ish metres will be masked. Those in such climates have told me that if it's hard-pruned immediately after flowering, the plant is totally refreshed as a mid-sized foliage shrub, looking fabulous all winter, until flowers emerge again in summer.
Then enter Melianthus 'Purple Haze'. I first spotted this in the car-park border at Antique Perennials, and was immediately intrigued. The leaves were smaller than the type plant, and the stem-length suggested the whole plant would be shorter. But what grabbed my attention was the curious pink-purple suffusion in the leaves. It's a weird colour, that some sources say is intensified by stress. And it looks like that. It kind of reads as a stress reaction, or like one of those pigments, like the flavours of herbs, that are diluted by rich growing. I find it both more intriguing and captivating that beautiful, but it's a must have.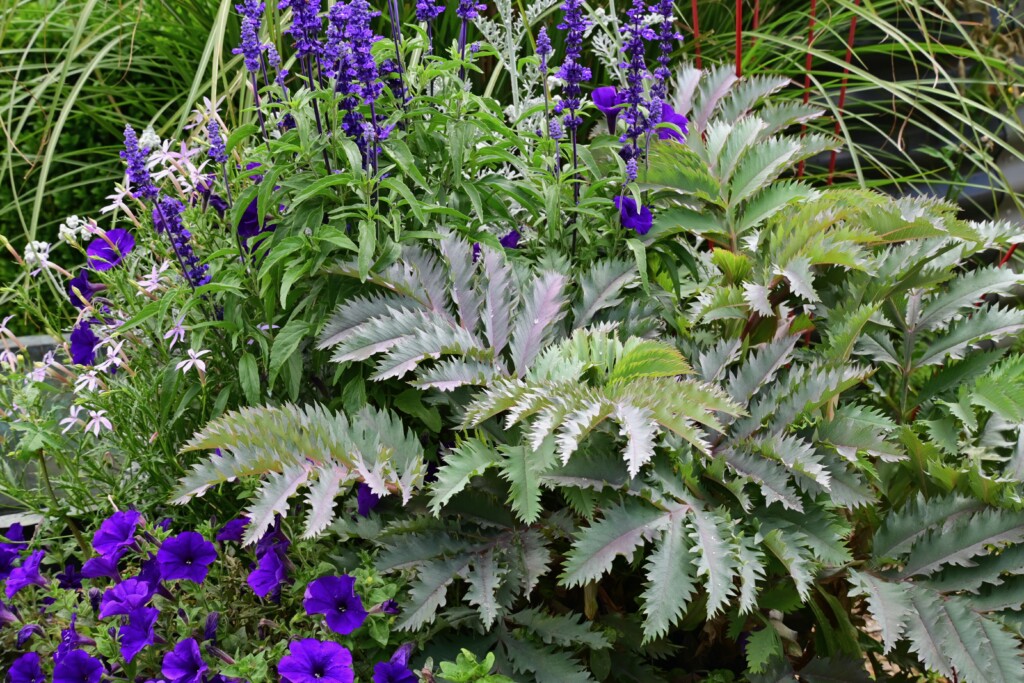 This year I have mine in a mixed pot. It's only achieved about 40cm, which is far less than it is capable of, and I put down to a slowish recovery from being frosted. It also puts it in perfect balance with Salvia 'Victoria Blue', which sits above it, and those fabulous purple spreading petunias (yes, you read right – petunias) which it, in turn, sits above. Some online sources say it's capable of 3m, but I can't believe it. Matt from Antique Perennials reckons his would get to 1.2m if it wasn't continually hacked for cuttings. I'd love to know how big it has grown for you, if you're one of the lucky few who have managed to get hold of a plant.
Thankfully, Antique Perennials tell me there's more on the way.