Whenever people visit my garden, without fail the most asked-after plant is the Marlborough rock daisy (Pachystegia insignis).
The Marlborough rock daisy is exactly what it says on the tin. It's a daisy, it's from the Marlborough district of New Zealand, and it grows out of rocks.
Although 'daisy' conjures images of something delicate in constitution, this plant could almost wear the title of 'succulent'. Its hand-size leaves are leathery and tough. They are glossy dark green on top, covered in dense, white felting on the underside; an adaptation, I presume, to protect the plant against the heat reflected from the otherwise bare limestone rock faces it inhabits in its native state. In fact, I have never seen it growing horizontally in the wild, only ever on vertical surfaces, such as the crags in the cliffs surrounding Kaikōura, in New Zealand's prolific wine-growing district.
This gives us useful clues as to what the rock daisy likes, and what it will tolerate, in cultivation. The Marlborough district is the northeastern part of Te Waipounamu, the South Island of Aotearoa/New Zealand. Owing to its geography, the Marlborough is the hottest, driest part of New Zealand. It has a distinct Mediterranean climate – hence all the grape vines to be seen there, stretching as far as the eye can see in every direction. This tells us that Pachystegia insignis is adapted to a winter rainfall climate, with hot summers and very frosty winters inland, as well as milder coastal conditions. It grows in rocky, free-draining, limestone soils, and it tolerates more heat than many New Zealand plants. What the rock daisy hates is heat and humidity at the same time. It hates being hemmed in by taller plants, and it resents still, close conditions. It likes the sun above its head and a good stiff breeze through it at all times.
In my garden conditions, it grows to perfection without a skerrick of attention paid to it. It looks effortlessly elegant 365 days of the year; perfectly shaped, perfectly groomed, with never a leaf out of place. Around the longest day of the year, it is garnished with a constellation of crystalline white, narrow-petalled flowers. These exude the naive charm that is the trademark of all daisies. They only last a week, however, so the exceptional foliage is the main reason to grow Pachystegia insignis.
Everybody who sees my pachystegias declares they SIMPLY MUST have one, and wants to know where they can buy one IMMEDIATELY. Sadly, Pachystegia has an unfortunate combination of attributes which do not make it a worthwhile proposition for the nursery industry. First, it is difficult to propagate. Pachystegia typically bears little viable seed, and it loses viability quickly. So, even if you sow a thousand seeds, you might only get a dozen germinate. The seedlings are tiny, and very prone to damping off under normal nursery conditions, so you can go from a meagre dozen to zero overnight. Cuttings are no better, being very difficult to root. If you are lucky enough to get some seedlings going, they are slow growers for the first few years, and have no pot appeal whatsoever. The likelihood of anybody impulse buying a Pachystegia in a suburban nursery is low indeed.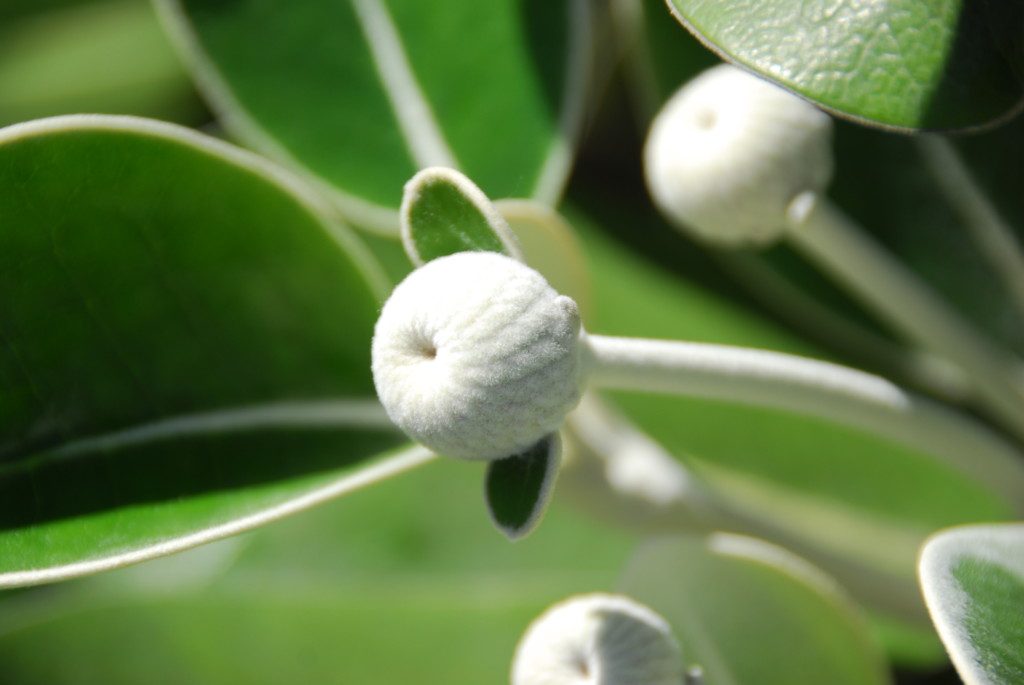 Yet, in spite of these irritations, Pachystegia insignis is one of my top ten desert island plants. If you are lucky enough to see one for sale, jump on it. They can be a little tricky to transplant, being inclined to turn their toes up if their roots are disturbed too much, so transplant with care. It's not until they have got through their lengthy ugly duckling stage in a pot, and spent a few years in the garden, that the elegant swan begins to emerge. And elegant it is. The unique form of this plant gives it a strong enough personality to hold its own in a design, yet its sober green and white colour palette allow it to get on with quieter plants. It is one of the best textural plants I know. I love to use it with other evergreen foliage subshrubs from Mediterranean climates, such as Helleborus argutifolius, H. foetidus, Euphorbia rigida and Viburnum davidii; with the contrasting texture of grasses such as Stipa gigantea and its compatriot Anemanthele lessoniana, and surrounded by an apron of mat-forming plants such as Azorella trifurcata and Sempervivum 'Blue Boy'.
I hope that you will get to try this aristocratic plant in your own garden at some stage. It is quite simply worth every effort to get it and make it happy. 
Images provided by Simon Rickard & Michael McCoy