I remember turning up in London, for my first time, in April 1991, and the only things in flower in the otherwise bare front gardens as I was driven from the airport were Viburnum tinus and Forsythia. I saw both of them with new eyes, that day.
I'd always loved Forsythia (less so the Viburnum, but read more about that here), but on that gloomy, low-cloud day, they looked as if they had their own independent source of illumination.
Forsythia is in flower now, for us, at about the same time as most of the wattles. And I can't help but wonder if it's sheer snobbery that I get more pleasure from the former than from the latter. Guaranteed those Londoners wouldn't see it the same way, if they could have both. But in my own defence (against my own attack – see how my brain works?) I do think there's something particularly captivating about those deciduous shrubs that flower before their leaves appear. Add to that my penchant for anything with hanging, bell-like flowers, and I'd argue that the result is virtually irresistible.
It's surprising, then, that I don't consider Forsythias as front-runners in the shrub category. Please fight me on this if you disagree! To me their perfect place is the hedgerow, or along the front boundary (of a big property), or deep in the back of a very deep shrubbery. That's probably because they're total passengers for the entire rest of the year, making no contribution in the form of good foliage, or seed heads or any such thing.
Forsythias are classic cane-growing shrubs, meaning that rather than slowly accumulating bulk by growing from the tips, strong new canes branch off old ones from deep inside the shrub, so pruning entails the removal of old canes right back to that branching point, rather than a peripheral trim. The result is (at best) a rather charming vase shape of about 3m x 3m, with long fingers stretching out horizontally, so that the floral density just diffuses at the extremities. Plants of this form should never be trimmed over into a predetermined shape (with the single exception of Simon Rickard's excellent suggestion regarding Ribes sanguineum. Admittedly it's not as emphatically cane-growing as Forsythia, but is sufficiently so to make his exception notable. Check it out here). It's at odds with their very nature.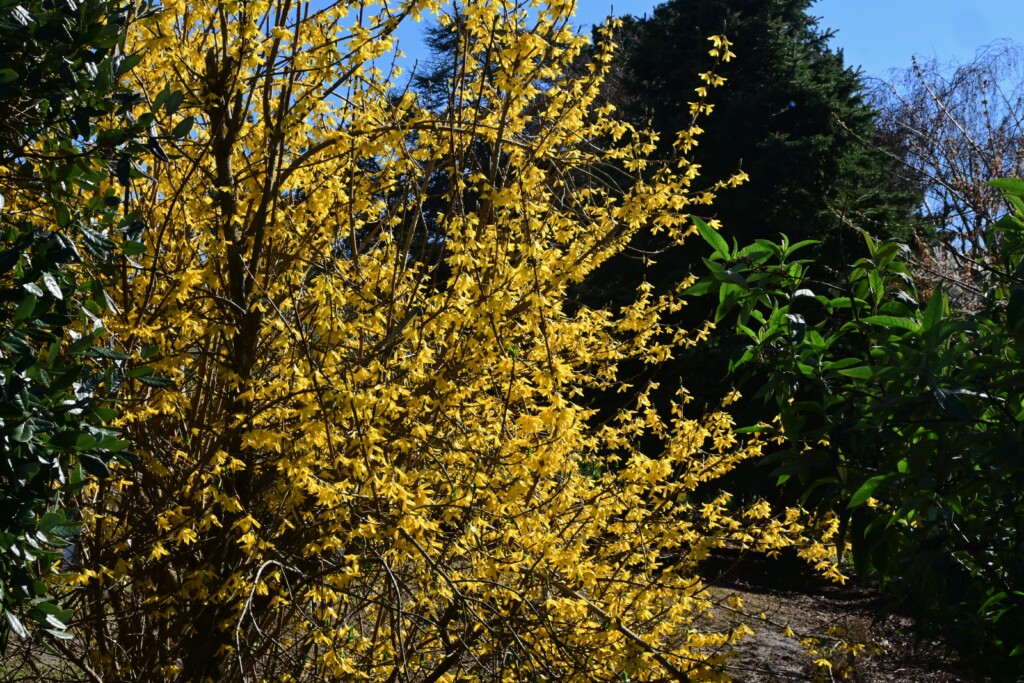 I remember the great Dan Hinkley once stating, perhaps slightly tongue-in-cheek, and in total contradiction to my point above, that in his home town in Michigan it was so cold that they grew Forsythia as a foliage plant only. It was too cold for it, or many other shrubs for that matter, to flower! It makes you realise how spoilt for choice we are, here.