Were you gardening in the days before Nepeta 'Six Hills Giant' became available in Australia? I remember poring over British garden books, and yearning – like actually aching – to be able to get my hands on it. I recall one pic in particular, showing a bench surrounded by an arc of Nepeta 'Six Hill's Giant'. It was as if the bench was floating in a low fog – a hovering haze – of lavender-blue.
Now I've lived with it for 25 years or so, my love is somewhat moderated. I still consider it a great plant, but am as aware of its limitations as I am of its charms.
To cover it's charms first, that haze of lavender-blue is as heartbreakingly lovely as ever it was, stretching up to nearly one metre tall in a really well fed plant, but averaging about 70cm.  And it's as generous as it is lovely, with an initial long flowering period starting (for me) about now.  If I then cut it back quite hard (right back into the older foliage – not just dead-heading it) it'll do a second, rather diminished flowering later.  Where there's a longer growing season, and water for irrigation, some claim to get three flowering cycles out of it.
The other great advantage of Nepeta 'Six Hills Giant' (and it was writing about this aspect re: Geums last week that prompted this post) is the huge potential spread of each plant.  Not trusting my guess that a single particularly vigorous plant must have achieved 1.5m across, I once grabbed a tape and actually measured the thing, only to find that it covered a circle 2.1 m across, and this from a growing crown no more than 30-40cm across.  This is an increase from about 0.12 sq m to 3.5sq m of coverage between winter and late spring, only to return back to the crown again each winter.  That makes for fabulous ground-cover capability – particularly in a new garden when you're in a hurry for growth, or below plants like roses, as one plant of Nepeta 'Six Hills Giant' every 1.5m could (depending on growing conditions) be plenty to achieve a solid carpet at flowering time.  Indeed, it's the most perfect plant for beneath roses, as their initial and heaviest flowering coincides perfectly, and there's not a rose (with the exception, perhaps, of those pretend-blue ones) whose colour isn't complemented by the nearby blue of the catmint. 
But this extravagant spread becomes the biggest challenge to its use in other settings.  It's a tricky plant to mix in with other perennials, as the great bulk of foliage and flower seasonally swamps everything surrounding it. If used next to paths or lawns (as its low-lying profile suggests), it spills so far over them as to make them virtually impassable, unless planted well away from the edge.  I have some plants that have found themselves growing right next to a rapidly increasing clump of Tulipa saxatilis.  Placed appropriately, they might prove to be perfect companions, with the tulip arising in bare soil, and its space then being swallowed up by the catmint as the tulip dies down.  The trouble is that they're just too closely planted, and the catmint wants to subsume the tulip when it's still in full leaf.  The width of the bed doesn't allow the outworking of the most obvious solution ie moving the catmint further away so that it doesn't reach the tulip until it has died down sufficiently, so I revert to the other very workable solution, and that is to cut the new catmint growth back hard before it grows over the tulip, and by the time it recovers – which it does, fully, and without apparent discouragement – the tulip has completed its life-cycle.  So while it's over-enthusiasm can be a challenge, it's infinitely manageable.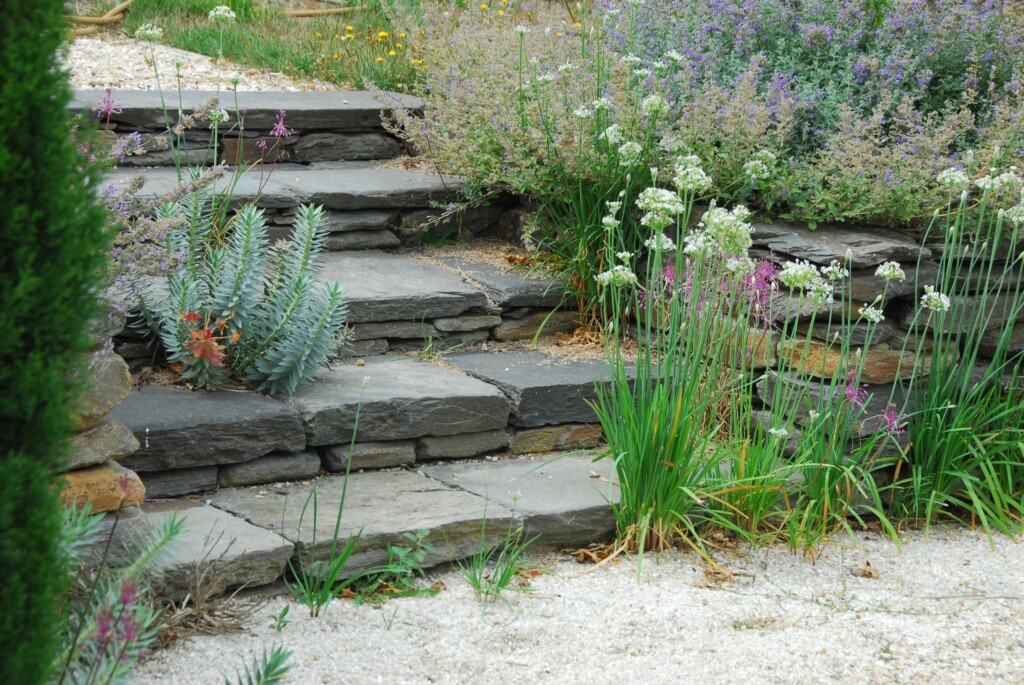 Better still, you pick your giant catmint form according to its purpose. If you're wanting to cover huge areas of ground beneath roses, go for 'Six Hills'. If you're mixing with other perennials, go for a less lax form, like 'Walker's Low' (sold in Australia as 'Walker's Blue').