Like most kids, I grew up plant-blind. But Virginia creeper, along with its relative Boston ivy, somehow broke through and made itself known to me. I recall, from the earliest age, a charming old brick house on Nicolson street Coburg, that we'd pass several times a week on our way to church, clothed from floor to fascia with glowing crimson in mid autumn.
But I don't think any mental image of Virginia creeper has impressed itself on me as deeply as those of Rick Eckersey's gardens in which you so often see, in the Melbourne suburbs, a pergola entirely draped in it, with the fall of heavy velvet, and glowing in stained-glass colours.
Imagining a similar effect on a long pergola made of sticks at my place, I've planted several plants at the base of the slender timber posts, and while they've made regular vertical lunges, they've nearly always fallen back on themselves, and those that have made it to the top have entirely failed to get the idea that they're now required to engage in some horizontal movement. This is clearly due to their suckering form of attachment of whatever structure they're climbing. Unlike grape vines that use strongly winding tendrils, or wisteria which uses its own stems to do the winding, Virginia creeper sports tendrils which end in adhesive pads that lock into the surface. This makes them much better at climbing masonry walls and flat roughish surfaces than trellis, wires, or (in my case) very slender timber elements. Having climbed a wall or structure, if they encounter some kind of overhand, they're capable (as in Rick's unforgettable pergola pics) of losing the need to cling, and growing downwards in great curtains of lightly interlocked stems.
Virginia creeper is also known to be rather less strongly adhesive that it's more vigorous cousin, Boston Ivy (Parthenocissus tricuspidata). They're easily told apart as Boston Ivy has a classic three-pointed ivy leaf, while Virginia creeper has leaves made up of five quite seperate leaflets. Both share the superficial suckering method of attachment meaning that they don't do the surface damage that some other self-clinging climbers can, but they must be cut them away from eaves and from around window sills if used on buildings, or they'll work their way in through any gap.
While if I could only have one of these two similar climbers I'd opt for Virginia creeper due to its brighter red autumn colouring (the Boston ivy leaning towards a quieter burgundy), they can look fabulous when mixed together. Not only does this create a tapestry of two different foliage forms that are also subtly different greens, they colour up at slightly different times, making for great patches of the red Virginia creeper amongst the still-green Boston ivy, early on, and then extending the season with the later colouring of the latter.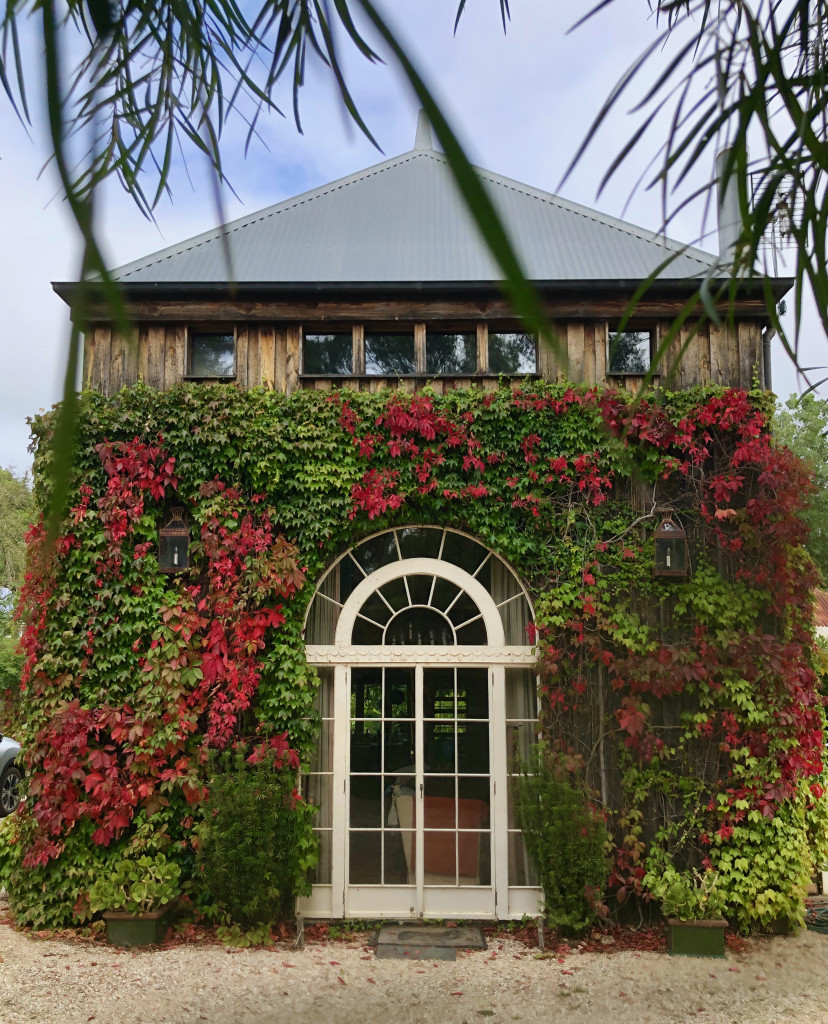 How have you gone with Virginia creeper? Have you had to help it along in any way, or are you constantly fighting it?