Elaeagnus x ebbingei is a great big brute of a shrub. At a maximum of about 5m tall by the same wide, it's unlikely that you'll ever want to release it into your garden in an untamed form. But it's infinitely tamable, and in restrained form is very useful indeed.
Its stand-out visual quality is its overall impression of silveriness, and where a large silvery hedge is desired, there's nothing to match it. I specify 'impression of silveriness', as unlike true silvers like many of the wormwoods, for instance, the source of the silver quality of Elaeagnus x ebbingei becomes less and less evident the closer you look at it. On really close inspection, you're much more likely to notice the striking cinnamon colour of the stems, and that this same colouring invades the back of each leaf, giving it a slightly golden or bronze sheen, and concentrating as spotting that, in my imagination, at least looks rather unpleasantly like pustules, or glands, across the leaf surface.
The upper surface of each leaf is spotted in a similar way with silver overlaying rich forest green, such that you feel like you could scratch the silver off to reveal the underlying green. It turns out that you can't when the leaves are young, but you can as the leaf ages, and this occurs naturally, so that the upper side of all the older leaves is deep green.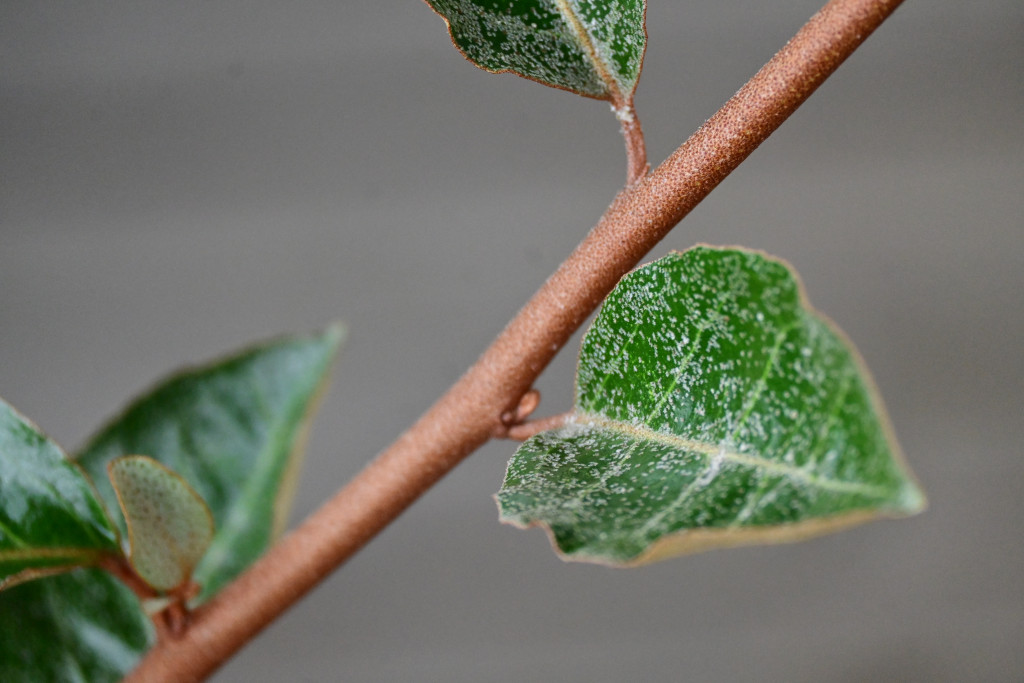 This sounds all very confusing, as many things become when you look really closely. But it's curious to me how a plant made up of so many non-silver components can, overall, read as silver-ish.
Meanwhile, its stand-out physical quality is its tolerance of a wide range of conditions, including nearly all soil types (but for the waterlogged), full sun through to substantial shade, and extremes of both frost and drought.
All that aside, the reason why this stodgy evergreen has come to seasonal attention is that it is currently – in late autumn – in flower. Not that you'd know to look at it, as the flowers as hidden deep inside the foliage (unless you've recently pruned it hard). It's the perfume you notice at first, and it catches me out every time. At first I think I'm smelling either hyacinths (which would be odd, given the season) or sasanqua camellias. I invariably look around, vaguely trying to source the scent, and it always takes a while before I track it down to the elaeagnus. Last week I snapped off a branch and carried it around for a while, regularly tapping into the hyacinth scent. I kept sniffing it regularly through the next couple of days in a vase indoors, during which time either it, or my nose, morphed to a new place, and I started smelling something altogether more exotic – more like the perfume of Cestrum nocturnum – the kind of scent you'd expect to encounter on an evening walk in a tropical resort.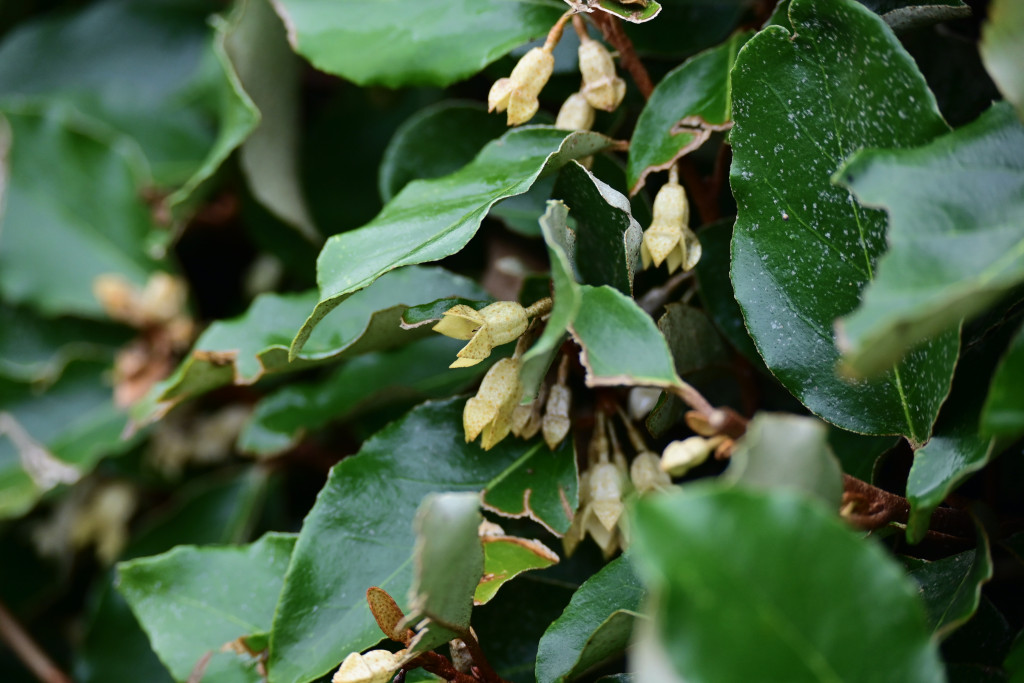 Elaeagnus x ebbingei is brilliant for a tall hedge of, up to, say, 3m tall.  I don't know that I'd want to keep it short, though I notice in Michael Cooke's Disobedient Gardens that he's used it for hedges at about 1.2m.  In my own garden I've used it for large spheres, about 1.6m round.  With all new growth cut off it, it's a vaguely grey-green shrub, and works in well with the desaturated colours of many Australian natives, or with a Mediterranean plant palette.  Using it in clipped form (which is the only way I'd ever use it), you need to be aware of its growth habit, which, like bay laurel, is to put on great, long, unbranched shoots that bolt right away from the outline you've previously cut.  Where possible, I'd always rather use a plant of the growth form of, say, Viburnum tinus for any clipped job, as the new growth is short and dense, so a previously cut shape just gets fuzzy and diffuse if it's not cut for a season.  Over the same period, an uncut Elaeagnus x ebbingei will lose any perception of its original and intended shape, and quite possibly double in size. An offsetting – and rather rare – benefit is that as it flowers on short shoots off old wood, so that in hedging it, you won't be cutting off its flower potential.
Do you grow it? How would you describe the scent?