I can't quite settle, having done Villa Gamberaia an injustice. Not that I didn't talk it up, but that I only talked of one small element and ignored the rest. A few more words, and a few more pics, and I'll let it go.
If the water parterre (called that 'cos there's four shallow ponds amongst the box where flower beds would normally be) is the heart of the garden, then its very powerful and emphatic spine is the bowling alley. Looking one way, you see the view on the left. Looking the other, you see the view on the right.
Now for quite a small garden, this is an extravagant move. The photos don't really give you any idea. I stepped it out at 250m long and 9m wide. In other words, it's the size of five olympic swimming pools end to end, or a full quarter of a km. What's more, it wasn't easy to achieve. The part of this lawn where the pots of pink azaleas are is built on a bridge, crossing a road! Outrageous. But outrageously wonderful.
And see the pine at the other end? When you get there, and hang over the balustrade, this is the view.
Nice bit of classic Tuscan countryside, with the outer edge of Florence on the right. In fact, the land on three sides is lower than you, so you discover that you're standing on something of a raised peninsula.
Part way down the bowling alley, and in line with the door of the villa, the walls to your left open up to reveal what's known (very unoriginally, and not very accurately) as the secret garden.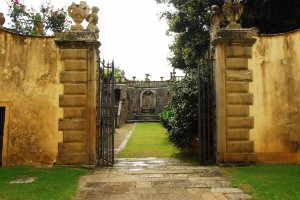 It clearly was never meant to be a secret, though it is nicely tucked back into the walls that make up the side of the bowling alley. And these happen to hold secrets themselves.
Standing where I was, taking this pic, the wall on the left is a retaining wall, virtually to it's very top. Above all that is the citrus garden. The wall on the right is largely free-standing, containing a wooded area.
From here it looks totally balanced. Even when you step through the pictured gates into this deep slot, there's stairs running up to an equal height either side of you, despite the finished levels beyond being vastly different on your left and right. This is resolved with further retaining walls beyond the stairs, so as to maintain a sense of perfect balance. This is clever – and expensive – work.
Anyway, it's left me hankering for a disproportionately long, straight, flat walk through my very limited acre, back here in Oz.  I wonder what the farmers are going to do with that land on the other side of the road?